About 2thinknow | History | Our Projects | Our People | Career | Investors | Legal Details
About 2thinknow
The world's first innovation agency, established 2006.
2thinknow has modelled innovation as a process, not a value.To do this we have created unique proprietary models, algorithms, metric indicators and analysis tools for innovation. This includes the first model of the innovation process across time and cities from San Francisco to Vienna to Dubai to Shanghai and beyond.Cities house 50% of the world's population, but most decision-making data is primarily on a national level. 2thinknow have used our innovation technology to research and build the world's largest database of city benchmarking data across 31 industry segments, over 162 designed indicators. This data-set references over 1500 cities, with full indicators on 450 cities globally in the core CBD data-set. 2thinknow set up programs to develop a significant understanding of the operation of innovation cities. Such as:
2thinknow are the first to offer these and other Innovation Programs for the innovation economy.
Back to [Top]
History
Back to [Top]
A history of global innovation, growing since 1999.
2thinknow provide cities, business and government with Innovation Programs to systemise the innovation process. We provide professional services within these programs to enable clients to implement ideas as an innovation process.
Timeline:
1999 – 'Born global': 2thinknow's predecessor Simple Group was established that performed data analysis, programming and presentation services for major Australia corporations and governments.
2005 – Vienna: Our Executive Director, Christopher Hire went on a tour of Europe in 2005, to compare 500 years of historical innovation in European cities.
2006 – Spin-Off/ Launch: The 2thinknow trademark and name were registered in August 2006. Initial change consulting was applied to our groups' existing technology clients.
2007 – Boston: The first Innovation Cities™ Index was launched in Boston, and then Vienna, in April-May 2007. The first major edition of the Global Innovation Review (now Innovation Cities™ Analysis Report) followed upon return to Melbourne.
2008-2009 – Development: The massive task of the City Benchmarking Data™ process for 256+ cities on 162 indicators was expanded into its first stage at this time. The Innovation Cities™ Analysis Report edition was published and sold globally.
2010-2012 – Expansion: The 2thinknow Innovation Cities Index expanded to 445 cities in 2012-2013. City benchmarking data expanded further with new city packages. The Innovation Course™ was launched.
2013 – Growth: Over 5000 media articles reached and clients including Samsung, Ogilvy, Ernst & Young, United Arab Emirates, BCG, city governments and global organizations.
Our Global Projects
Back to [Top]
Successful Examples
How 2thinknow innovation programs work for others like you:
Cities.
Big and small cities have used our data and innovation programs to inspire, create, measure and plan innovation progress in a globally competitive environment.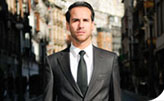 Business.
Businesses have created product, system, project or process innovations worth millions and billions of USD from our programs.
Investors.
Smart investors have used our data and analysis to support investment decisions in cities from Shanghai to New York to Seoul.
Industries.
Industry bodies have used our programs to inspire change in their respective fields which were facing disruptive technologies.
Consultants.
Consultants have used our programs to write high value-added reports for their clients based on our affordable city data packages.
Our People
Back to [Top]
People who transfer the knowhow of innovation to our clients.
Our Executive Director, Christopher Hire, is a leading authority on urban & regional innovation and the creator of the Innovation Cities Index, Program and Framework since entering the field in 2005.Hire has a 19 year leadership background in I.T., technical analysis, training and graphic design projects for leading corporations ranging from Coca-Cola to Toyota and from religious NGOs to international, state, federal and local government in Australia. A multi-disciplinary practitioner in design, I.T., business and analysis, Hire oversees the annual requirements of the Innovation Cities™ Program globally from Melbourne, Australia.
Connect >
Linked In
>
Xing
>
Twitter
Innovation Analysts.
All 2thinknow innovation analysts have a Bachelor's and/or Master's degree from a major university in I.T., accounting, finance, or commerce. Our analysts provide content for client projects, the Innovation Course and our City Benchmarking Data services.
Communications Network.
Our project-based communications network is composed of multi-lingual, dynamic thinkers who have received 2thinknow's innovation modelling, innovation design and/or innovation analysis training. They create proposals and build relationships with our clients.
Innovation career opportunities with 2thinknow.
Communications.
2thinknow are time to time seeking to hire people in communication roles. Good attitude, past writing experience and perfect writing aptitude and skills needed.
Internships.
2thinknow have given a first start to over 50 interns from different countries since 2010, and many have become 2thinknow team members on future projects. Currently as at May 2016 the internship program is not accepting applications.
Consultants and Trainers.
Experienced business people with good marks from top universities in arts, economics or commerce and commercial industry experience can apply in future to become consultants and trainers at 2thinknow.
We like all sorts of positive people from all sorts of backgrounds, and as most of the people we seek speak at least 2 languages. It is a multi-cultural workplace where different cultures are encouraged. All our professional staff require at least a bachelor degree and a master's is preferred.
Working at 2thinknow requires an open-minded attitude and a 'can do' mind set. Attitude to innovation sets us apart. Our staff are open-minded to new and ancient market and economic concepts and ideas — evidence and data drive all we do. Socialists and fans of complex academic economic theories will not fit with our practical, evidence-based approach.
Please submit your CV to our Melbourne Office or through an agent to contact us.
Back to [Top]
2thinknow is a private company started in Melbourne, Australia.
The Innovation economy in the U.S.A., Canada and globally represents a unique opportunity. 2thinknow have established early stage leadership in global markets for new-economy solutions. We operate globally.
Please contact us to discuss collaboration, global or national partnerships and investment opportunities in related corporations and projects.
Legal Details
Back to [Top]
Legal Name
Business Name: 2thinknow, established in 2006. Registered in State of Victoria.
Private company established August, 1999 in Sydney, NSW, Australia.
Global operation details on request.
Trademark Notice
2thinknow, Innovation Cities and other product and service names are either trademarks, registered trademarks or service marks used under international license by 2thinknow. Other names may be trademarks, registered trademarks or service marks of their respective entities. All rights reserved.
Legal Notices
Legal notices and official mail should be sent by registered post, addressed to:
ATT: Christopher Hire, Executive Director
2THINKNOW
GPO Box 3375
Melbourne, VIC 3001
AUSTRALIA
Licensing
Contact a 2thinknow team member now to work with us on licensing.